Angelina Jolie didn't like George Clooney and did her best to destroy their bromance with her husband. Moreover, the appearance of smart and good-looking Amal in George's life made Angie envious. The same sample of behaviour was working on another old good friend of Brad, Edward Norton (and his smart and attractive wife).
Angelina Jolie couldn't destroy good relationships of Brad Pitt and George Clooney. Of course, during the period of his marriage, Pitt met Clooney not so often but both gentlemen always knew they are friends despite any obstacles.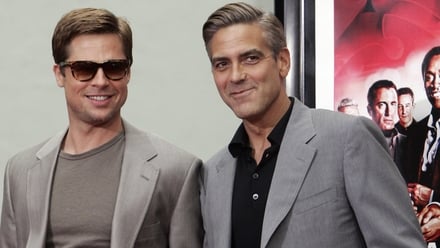 According to the friends of the family, Angelina is rather jealous and envious person who didn't welcome the friends of her husband. Instead of keeping the good relations with the important for Brad people from his past, she just cut off them from Pitt. Brad wasn't angry, he dedicated all his life and time to the big family and was happy anyway.
Divorce and collapse of Brangelina have changed the daily life of Brad, he started to communicate freely with George and Amal Clooney who were happy o Brad's coming back. No, George is sure that all these years with Angelina couldn't destroy the real friendship.