Drake breaks the record that Adele set, the Canadian rapper got 22 nominations, won 13 awards and became a Top Male Artist.
The Canadian rapper won Top Artist nomination among many others at the 2017 Billboard Music Awards. On Sunday, Las Vegas welcomed the music industry stars at the T-Mobile Arena. In 2012, Adele set a record at the show with 12 wins, Drake broke her record and won 13 nods.
"I got my whole family up here,"
said Drake, who stood onstage with nearly two dozen people, including his father, singers like Lil Wayne and Nicki Minaj.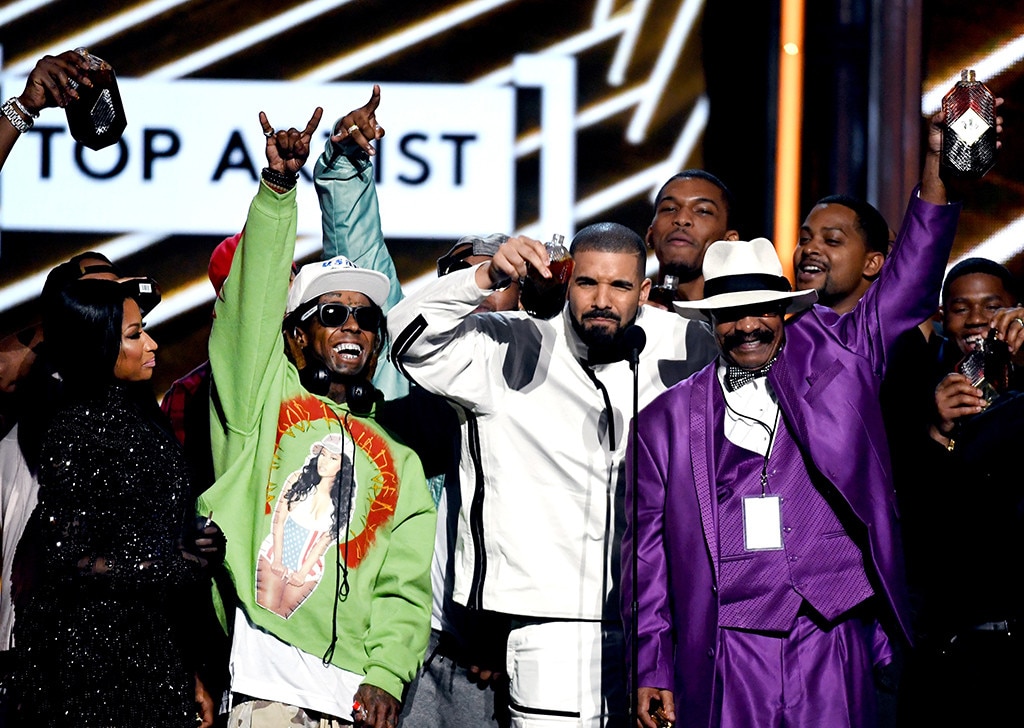 Drake, Cher, Dion at the 2017 Billboard Music Awards
Drake and Celine Dion became the most famous Canadians at the ceremony of 2017 Billboard Music Awards. The incomparable Cher also received the Icon award, she sang 'Believe' in a glittery outfit with a blonde wig. After, the music legend switched to a huge, curly black wig and a black sheer bodysuit for another hit 'If I Could Turn Back Time.' Probably, Cher found the way to turn back time – she looked gorgeous!
Drake's compatriot Celine Dion performed "My Heart Will Go On" from "Titanic" under an immense chandelier. The young stars like Miley Cyrus with her "Malibu" and Nicki Minaj also made the public happy.
The Chainsmokers — who tied Drake with 22 nominations — won top collaboration for "Closer" with singer Halsey. The song, which spent 12 weeks at No. 1 last year, also won top Hot 100 song.
Rolling Stone magazine published the winners and nominees of 2017 Billboard Music Awards. Top Artist nomination looks like this:
Drake
Adele
Beyonce
Justin Bieber
The Chainsmokers
Ariana Grande
Shawn Mendes
Rihanna
Twenty One Pilots
The Weeknd