Sherlock, the BBC One crime drama, tops the list of TV-shows and programmes during the Christmas time. The adventures of the unbelievable deductive method's creator became the most-watched TV-series over the festive season.
The second year in a row the British watchers are happy to meet with Sherlock, the BBC One detective drama with Benedict Cumberbatch tops the rating list for Christmas season. It is worth to note, the popularity of this BBC drama is stable, the watchers are extremely interested in the details of every case solved by Dr Watson and Mr Holmes.. as the titular detective and Martin Freeman as Dr Watson, returned for a fourth series on New Year's Day.
TV-series Sherlock is the titular detective fro British watchers during the winter season. New Year's Eve and Christmas are pretty merry holidays but the duo of Martin Freeman and Benedict Cumberbatch is important too.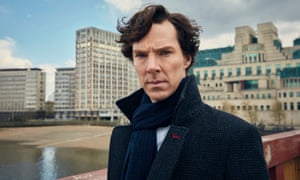 According to the statistic, the consolidated viewing figures show that the 90-minute episode drew 11.3 million viewers. Entitled 'The Six Thatchers' (original story 'The Adventure of the Six Napoleons') it had a audience share of 37.8%. In comparison, last year, 'Sherlock: The Abominable Bride' also was on the top of festive ratings – 11.6 million viewers.
This time Sherlock beat the Queen, though her Christmas message was the most popular programme of Christmas Day, watched by 7.7 million.