The handwritten letters from Princess Diana become a lot at the Cambridgeshire auction, six items have sold have for £15,100. In one of those letters, Diana writes about Prince Harry, who all the time in trouble in the school.
Princess Diana is an extremely famous person all over the world, her personal effects always have a high price at the different auctions. Bidders from as far away as Australia, Japan and the US were trying to purchase the items. This time, six handwritten letters became a lot at one of the Cambridgeshire auction.
In her letters, Diana wrote about her daily life and sons, one candid letter to ex-Buckingham Palace steward Cyril Dickman, revealed Prince Harry was "constantly in trouble at school". Another note described how young Prince William "swamped" his baby brother with "an endless supply of hugs and kisses".
An estimate price of six Diana's letters was £13,000 but auction could raise £55,000 in total for these lots. Six handwritten items are part of about 40 lots from Mr Dickman's former estate.
According to Cheffins, a Cambridgeshire auction house, the letters were "a unique collection of royal memorabilia".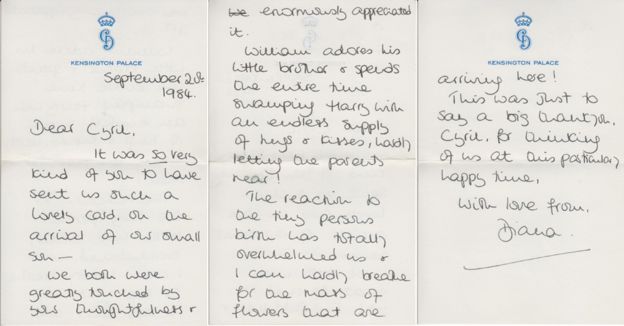 Princess Diana letters collection
The collection sold at auction also included letters, cards and photographs from Prince Charles and Princess Margaret, and Maundy money.
In one letter from the Queen written on Windsor Castle headed paper, she thanks Mr Dickman for his "thoughts and sympathy" following the death of the Queen Mother.
More than a dozen Christmas cards, including some from the Queen, Princess Diana and the Prince of Wales, were bought for £2,200.