Silicon Valley as a very powerful and rich conglomerate has responded to Donald Trump and his recent ban. Many CEOs and directors of the tech giants are really upset with this ban, the order of the president has perplexed them significantly.
Intellectuals from Silicon Valley are trying to understand the meaning of the ban, issued by Trump, but it's too difficult even for them. In fact, this document brings a confusion and even a disruption in the daily activity of tech giants and any other enterprise with an international team. Why does the US president do it now, that is the question.
The executive order of Trump made a lot of noise in the social media, one of the first reaction was from Marc Zuckerberg. Reed Hastings from Netflix said the ban order was 'so un-American it pains us all'.
Silicon Valley and its bosses found such decision of the US President a very upsetting. Despite the words of Peter Thiel who said that Trump's words should be taken "seriously, but not literally", the executive order is an official document. Jack Dorsey, Twitter's CEO, noted in his message the bitterness of these new measures, and Tim Cook told staff the Trump's ban was 'not a policy we support'.
The impact of President Trump's immigration ban on tech companies has been immediate. And one by one, the major corporations and personalities in this part of the world spoke out with a fervour some felt was long overdue.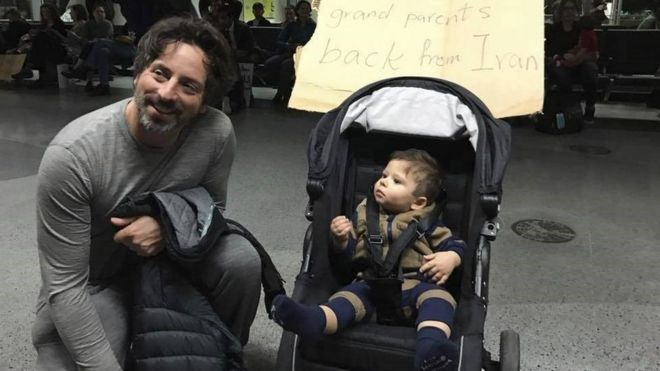 On Friday, Google's Sundar Pichai sent a memo to all employees raising his concerns and revealing that more than 100 Google staff were unexpectedly affected. His words were quickly shared beyond the inboxes of the search giant. The very next day, another Google chief, Sergey Brin, and Sam Altman from Y Combinator have joined protesters at the airport of San Francisco for a while.